Part of BeamLab is BeamFoundation, which facilitates creatives with a non-commercial perspective in the development of their project.

A workshop-space, network of audiovisual experts, dedicated team with knowledge of soft- and hardware are part of the BeamLab facilities available to BeamFoundation.

BeamFoundation matches the technical and pragmatic expertise of our specialists with ideas and creativity of its participants. Applying for the support of BeamFoundation is simple, please find the criteria and instructions on the call for concepts page.


BEAMLAB AWARD 2017 | KATE COOPER

The Award structure
The BeamLab Award is awarded by the board of the BeamFoundation. Aim of the foundation is talent development. In the collaborative structure BeamSystems is supplier of audiovisual equipment and technical staff, BeamLab focuses on the conceptual and creative aspects of audiovisual productions and the BeamFoundation supports talent development and can rely on the facillities of BeamSystems and BeamLab.
First edition Rijksakademie voor Beeldende Kunsten OPEN 2017
During the preview of Rijksakademie OPEN the board of the BeamFoundation selected second year Rijksakademie resident Kate Cooper for the BeamLab Award. The artist is granted a work period at the BeamLab studio to develop her work with support of BeamLab's facilities, equipment and development team.
This year's Award to Kate Cooper is the first edition within a long term partnership between the Rijksakademie and BeamSystems/BeamLab. Annually the BeamFoundation selects a Rijksakademie resident in whom it sees potential for professional audiovisual support.
'During the preview of Rijksakademie OPEN Cooper has shown a great level of professional application of audiovisual technologies in her work, which made the board with one accord select Kate Cooper as laureate.'  - board of the BeamFoundation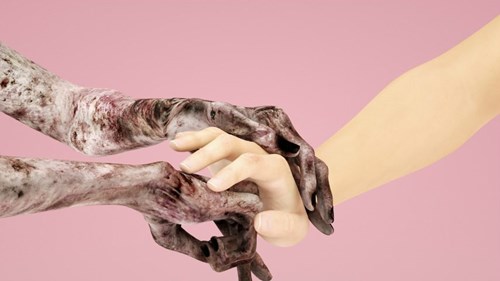 We need sanctuary 2016 - Kate Cooper
Selection criteria
This selection was based on the following criteria; the professional and technological level at which the artist operates, the conceptual development during the past years and most importantly the vital role of audiovisual technology within the practice of the artist. 
The continuity of Cooper's fascination with the human body, the processes of production and destruction in itself and the bodily effects of capitalism define her practice. Her way of representing the work with use of computer-generated technology and her choice for high quality equipment and performance, made her stand out as a promising artist especially in audiovisual innovation.
BEAMFOUNDATION FURTHER INFORMATION

OBJECTIVE
The goal of BeamFoundation is the non-profit 'not for profit' provision of support for, or the self-realisation of, audiovisual projects, which are of cultural or scientific nature. In line with this main objective is the support for personal and professional development of creatives and their audiovisual work. 
BeamLab makes its facilities, such as demo room, team with state of the art technological expertise and equipment available to applicants of BeamFoundation. The foundation gives the opportunity to talents to realise their project both conceptually and aesthetically in the best way possible.


GOAL 
BeamFoundation's ambition is to accommodate talent development of creatives and increase the quality of audiovisual production. We strive to achieve this aim by collaborating with artists and specialists in theatre, visual arts, performing arts, dance, light, animation, music and creative corporate industries.
COLLABORATION
Creative process coordination, technical expertise, know how of equipment are the essential services BeamLab offers to the applicants of BeamFoundation.  
BeamLab offers quarterly presentation nights, based on audiovisual innovation and the exchange of ideas and skills.
BeamFoundation may consult an independent advisory committee during the selection process of applications. 
CREATION PROCESS
Projects which are supported by BeamFoundation will be developed with the services of BeamLab. After succeeding the application procedure, a BeamFoundation participant elaborates his or her project. During this work period the participant gets tutor sessions to zoom into conceptual relevance and audiovisual importance of his or her project.
The end result of this process will be presented as a co-production at one of the BeamLab Talks.
BeamFoundation has partnerships with Hogeschool van de Kunsten Utrecht HKU, Rijksakademie Amsterdam and GerritRietveld  Academy Amsterdam.
ORGANISATION
BeamFoundation is an independent structure with members of the board from cultural institutions and the corporate sector.
The foundation uses its connection to BeamLab as a facility for applicants. BeamLab is the creative department of audiovisual supplier BeamSystems. BeamLab produces content and innovative audiovisual operating systems to display the content of corporate and non-profit entities. To realise BeamFoundation supported projects, BeamLab offers its services with a discount.
FINANCE
There will be a fund financed by BeamLab and by income from applications for specific subsidies per project. The resources of this fund will be made available to support participating artists of the BeamFoundation. The extent of resources will be determined by the budget report from the participant.
On the long term a Friends of BeamFoundation fund will enable philanthropic entrepreneurs, organisations and private donors to support a specific participant or selected BeamFoundation project. In return, the project or installation will be made available for exhibition purposes.
COMMISIONING (ENLISTING) AND ADMINISTRATION OF FINANCIAL RESOURCES
Capital of the Foundation will be commissioned starting from mid-2017. Resources are project based funding by BeamLab and by BeamFoundation Friends. The Foundation or participant may apply for cultural subsidies for his or her project. Administration and supervision of in- and outgoing capital and resources are provided by the board of BeamFoundation.  Board members do not receive any allowance for their proceedings and are unpaid members.
Board BeamFoundation
Chairman - Sabrina Kamstra,  hoofd Kunstzaken AMC 
Secretary - Jozef Heij, director BeamSystems 
Treasurer - Gideon Hein, director DEEP 
Member - Marie Louise Krijnen, director FOAM 
Member - Aveline de Bruin, curator Artcollection fam. de Bruin-Heijn
BACKGROUND
BeamFoundation and BeamLab were founded by BeamSystems. BeamSystems is a full-service provider of audiovisual equipment, founded by Jozef Heij in 1981.
BeamSystems is a renowned supplier, who goes to large measures of support to provide the best solution, not just providing equipment as such. Regular customers are not just artists, but venues, festivals and museums such as Stedelijk Museum Amsterdam, Paradiso, Melkweg, Holland Festival, Stadsschouwburg Amsterdam, EYE Film Museum, Paard van Troje, Impakt Festival, Rewire Festival, IDFA, IFFR, NFF, HAFF, VPRO and many more.
The emergence of E-Culture and digital arts has brought tremendous developments leading to the level BeamSystems operates today; a thrilling company of people, equipment, plans, inspiration and above all, great designs. These developments have led to the need for a specific platform to support profound research for these unique projects: BeamLab and BeamFoundation. 
RSIN 856935918