Bosch Experience - Mr.Beam & Maaike Engels
Concept and brief
For the celebration of the work, life and legacy of  's Hertogenbosch artist Jheronimus Bosch the city organised Bosch500. A one year celebration in 2016 with retrospect exhibitions, restoration projects, theatre performances, The Grand Tour and The Bosch Experience. For The Bosch Experience BeamLab developed two audio visual concepts, the boat trip Descent into Hell on the city's river de Binnendieze and the Bosch by Night show at the market square.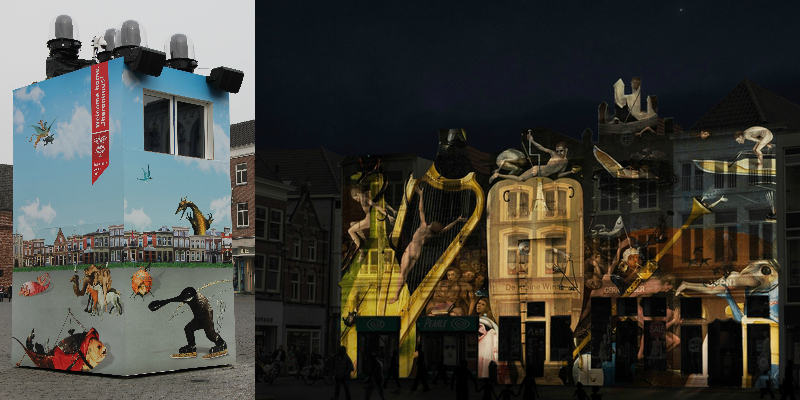 Technical description 
Descent into Hell is a boat trip on the 'S Hertogenbosch's river the Binnendieze which guides the visitor into Bosch his vision of Heaven and Hell. With a mobile projector on the boat visitors discover Bosch's imagination displayed on the vaults of the city's bridges and tunnels, while travelling over the river. RFID tags attached to the vaults activate the laser projector on the boat. On the electrical boats BeamLab constructed a projector set up with RFID readers, battery packs and media players. With this unique and full automised projection system you get as close as possible to Bosch's imagination.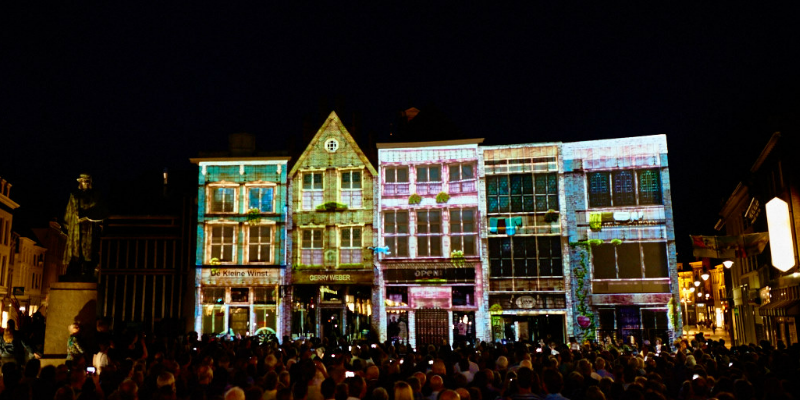 Bosch by Night is an open air video mapping on the south-façade at De Grote Markt. With a total width of 25 meters, the video mapping gives extensive insight into the Middle Ages' lifestyle through the eyes of Jheronimus Bosch. A storyline was created with content partner Mr. Beam and Maaike Engels. Thereafter, BeamLab build and installed climatised containers with media players, hardware and three Panasonic Full HD projectors. This installation supported the fully automated daily projections, surrounding audio and light show for a period of ten months.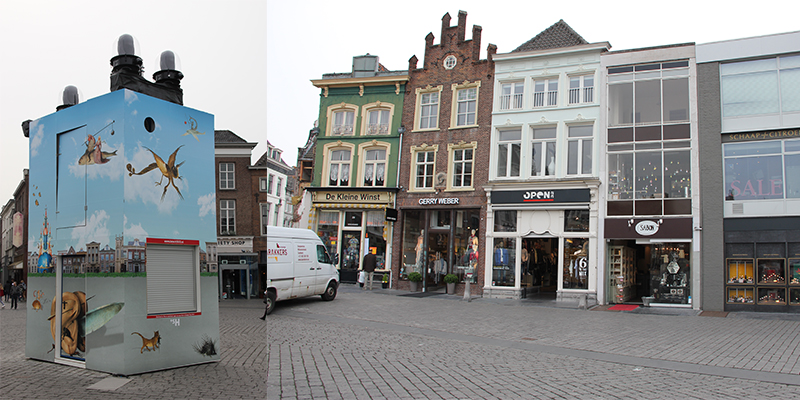 How did BeamLab create?
For both projects BeamLab developed the concept and storyline; delivered hardware, expertise and technical set-up and operated equipment. Visuals for the Descent into Hell and Bosch by Night were developed in collaboration with content partner Mr. Beam and Maaike Engels for the historic plausibility.

Other Partners
BeamLab developed this project in collaboration with Mr. Beam, Maaike Engels Foundation Bosch 500