BeamLab Performance Tech Lab - various
Performance Technology lab 2019 at MACA Amsterdam Noord 
Concept and brief
Technology and creativity intertwine; apps, the internet of things, interactive applications we use in our daily activities and for our communication. On the one hand for some it can make the world smaller, safer and cleaner, on the other it can be a source and a means for protectionists, extremists and cynics. Within the performance arts this paradox is ideal for out of the box experimentation during the Performance Technology Lab.

Technical description
For the coming 2 years the Performance Technology Lab will be a workshop for theatre makers, choreographers, performers to explore the possibilities with VR, AR, projection-, video-, audio-, arduino, isidora, touch designer and other interactive technologies The first edition took place from 3-10 July during Over 't IJ Festival 2019. This Lab was dedicated to theatre makers, designers and technical experts to explore new technological opportunities and develop creative concepts.

How did BeamLab support?
Participants developed their projects by using technology from the start. This approach has a two-fold benefit; AV suppliers get insight into the imagination and use of their products by artists and artists in their turn have access to the latetst technology in the industry. Moreover this approach brings along surprising artistic and new functional applications. BeamLab is founding partner of this Performance Technology Lab. During Over 't IJ festival the Lab was open for the public with open table discussions to let audience and participants interact

Participants
Marte Boneschansker & Geartsje van der Zee
Mirthe Dokter 
Marlyn Coetsier & Linda Willemszoon
Marjolein Vogels & Coralie Vogelaar
Lucinda Wessels & CJ P. Roxas 
Gertjan Biasino 
Cat Smits

Partners
Feikes Huis, Toneelmakerij, LikeMinds, Cinedans, BeamSystems, Dansmakers Amsterdam

The Performance Technology Lab is a growing network of production, talent development, presentation, technology and creative partners. The Lab is open for all.
Next to Labs in spring and autumn, Performance Technology Lab is building an online community for performance artists, designers, technical developers: PerformanceTechnologyLab.nl 

Supported by DEN kennisinstituut cultuur & digitalisering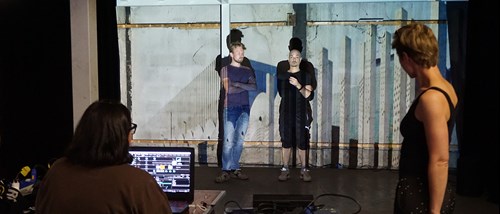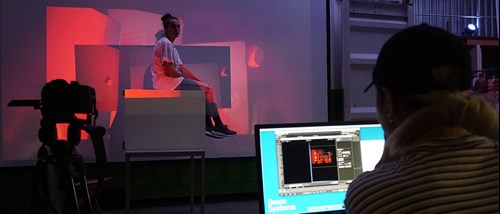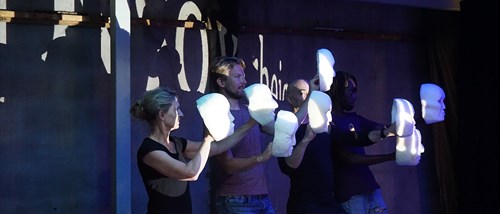 Concept and brief
In 2017 BeamLab launched an open source Performance Tech Lab (PTL) to support talent and concept development of young theatre makers. Five participants were selected by our partners Feikes Huis, Stichting LikeMinds and Dansmakers Amsterdam; a selection of choreographers, dancers, performers, theatre producers and designers.

Technical description
A seven day Open Lab at the studios of Dansmakers Amsterdam with flexible audiovisual set-ups inlcluding live-streaming, holographic projections and a multiple projector and camera set-up. Our core operation was d3 Technologies media server. BeamLab provided technical and creative support. 

How did BeamLab support?
During BeamLab PTL we facilitated in technical advice with a team of technical specialists, a creative director and flexible equipment set-ups. Two main research topics stood out during these sessions; What are the visual possibilities of holographic projections in a performance? How do you integrate live streaming with a (small-scale/puppetry) performance?Set-ups were built up by our team in collaboration with the participants. The set-ups were adjustable to the concept and needs of each participant. BeamLab shared the progress of the PTL workshop daily via our YouTube live-stream.

Partners
LikeMinds, Feikes Huis, Dansmakers Amsterdam