Concept and brief
For over almost 10 years BeamLab initiates creative evenings, where specialists and enthusiasts gather. One of our collaborators on these BeamLab evenings is the Amsterdam Dance Event. Last year's edition took place at the Brakke Grond, the creative hub of the ADE conference. BeamLab dedicated this edition to optimizing synergy in audiovisual databases, innovations in content management, live video sequencing, large scale stage design and audiovisual artistic experimention. The evening consisted of 5 specialist presentations, showcases and Q&A sessions led by our BeamLab moderator Maaike Engels. Visiting guests; respectively EboSuite -Jeroen Hofs & Rob Duyser -, Q-Dance, Albert van Abbe, Andreas Nicolas Fisher, Stefan Daniels, Oscar Mulero and Javier Bejarano.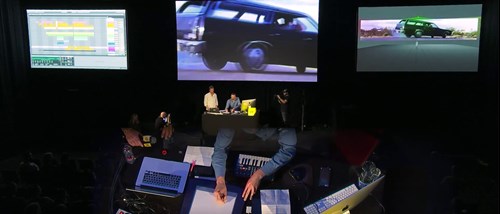 Technical description / Set up of the evening 2018
EboSuite is a video plugin that turns Ableton Live into an audio-visual production suite and now enables connectivity to media servers - real-time visualisation, combined with object tracking, videomapping and unprecedented control over multi-channel video sequencing - for spectacular performances.

Q-Dance - The Creative Chain Revealed: Ideas and concepts are essential in any creative business as is teamwork. The team from Q-Dance stage design explained how they turn their ideas into reality.

Albert van Abbe's brainchild Weltmaschine is developed with Andreas Nicolas Fischer, the aim was making a Live Audio-Video world, where sounds meets the eye. Weltmaschine; a new Audiovisual Live Performance and a series of video installations generating hyper-reality landscapes in sound and image.

Monochrome is a cinematic experience created for Oscar Mulero's album Perfect Peace. This cinematic concept was created by Javier Bejarano and Nazare Soares in 2016. An audiovisual experience, which explores what happens when juxtaposing still and moving images. What is the relationship between the image and history, as a construct of memory. Rhythm, repetition, duration and transformation of abstract film qualities are linked to the oscillation between harmony and aural dissonances of the sonic experience.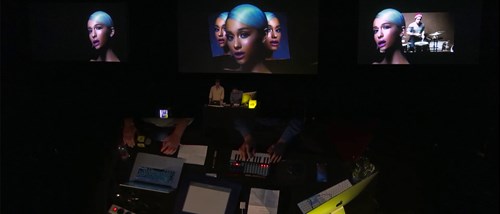 How did BeamLab support?
Part of BeamLab's service is providing quarterly BeamLab evenings, get-togethers or multiple day open workshops wich are organized with specialised partners such as Dansmakers, LikeMinds, Feikeshuis, Cinedans and ADE. Each edition BeamLab offers a different set up for participants to explore a topic of the audiovisual spectrum. BeamLab evenings or workshops are planned and programmed around the selected technologies and research. BeamLab is producer of these evenings and takes care of the overall set up from facilities, production, inviting specialists, experts, moderating talks and workshops.
Partners and invitees
Amsterdam Dance Event, Q-Dance, Eboman, Oscar Mulero